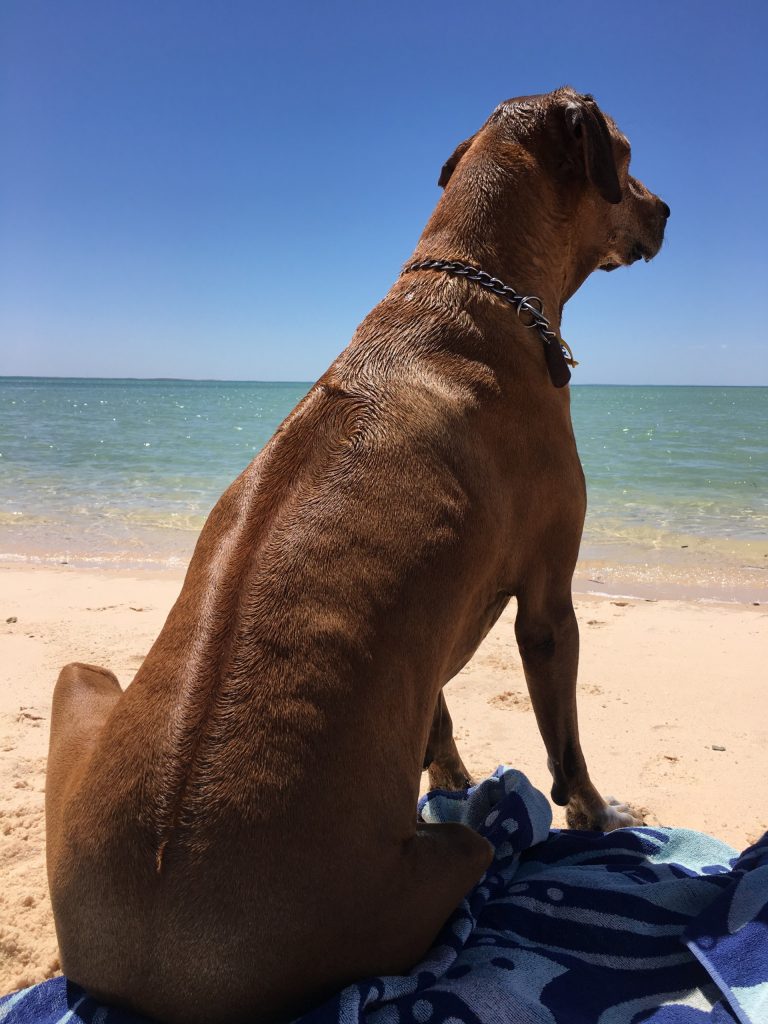 Know the Signs and Symptoms
Heatstroke in Pets is a very serious and life threatening condition which can occur when your pet overheats and is unable to reduce their core temperature.
In Exmouth, in the hot summer months, we have many local West Australian residents holidaying in Exmouth with their pets. And why wouldn't you! We have amazing beaches which are all pet friendly. But the temperatures in Exmouth can be extreme, often 40 – 50 deg a day for extended periods. You need to be vigilant with how you manage your pet in these conditions.
It is important to know the signs of heatstroke. Look for rapid panting that is short and sharp. They may be staffering, weak or have general lethargy. Their gums or teeth might appear dark or bright red and be sticky or dry. They maybe salivating or drooling (if anything like my two beasts, this may just be indicating that they are wanting their tucker!!) There could be vomiting and/or diarrhoea – possibly with blood present. Their rectal temperature is between 40 – 43 degrees. And at worst, their could be seizures of coma.

Some things that you can do to help lower your pets core body temperature if they are overheating or possibly suffering from heat stroke can include obvious things like, moving them to a cool shaded place. Laying them on floor tiles is a good start. You can use cool (not freezing) water to cool them down by offering small amounts to drink or by putting wet towels on their body, feet and head…much like humans. If you have a fan or air conditioner, then this will help to aid in the evaporation and cooling.
If you do suspect that your pet is suffering from heatstroke then you should contact your vet immediately. Here is the link for the Exmouth Vet Clinic. https://exmouthvetclinic.com.au/ Phone number is 9949 2499 The surgery is closed Saturday and Sunday. And open Monday to Friday 9am – 4pm
Here's a few tricks that we use on our beasts at this time of year to aid in the heat management. Water consumption (like in humans) must be increased. Add water to dry kibble and even drown the meat and vege in water, the dogs will still eat it, and it will keep them hydrated. Obviously DO NOT have the dogs in the car when it is not travelling and the air conditioner is not on. Leaving the window down is not enough and dogs can die in cars. Walk the dogs at the beach, at a park, at a lake… if possible! Not on hot pavement, or through dry hot bushland. Walk them early as possible in the day or at sunset when the temperatures are cooler.
We all know that our pets know how to 'work the situation' and manipulate us to get what they want, but let's just be a little kinder in the summer months. There is no need for the 'toughen up' attitude!
Pet Friendly Holiday Homes
Many of our holiday homes are pet friendly. https://www.exmouthholidayhomes.com.au/feature/pets-welcome/
But we highly recommend before you book your holiday house, to contact the office, have a chat to the staff, and make sure that the house you are planning to book is the best choice for your pet. Some homes have better fences, some owners only like small dogs, some owners are adamant that there are no pets inside etc. So it is best to check with us first.
Our pet friendly holiday homes all come with fully compostable dog poo bags, and we encourage you to use these to dispose of the doopers around the yard and at the beach. Dispose of thoughtfully.
You will need to provide your own dog bedding, bowls and toys. Remember that you pets are in unfamiliar territory. There will be other dogs smells at the house, the fencing maybe different, there are roaming emus in the streets, lizards, goannas, potentially even snakes at times of year. So you need to be very vigilant as to managing your pet at their new holiday house.
All our staff are pets owners and lovers. Amy has Gus the Staffy. Sandy has Chloe the Boxer, Geoff has Angus the Rhodesian Ridgeback and I (Helen) have Odie the Rhodesian Ridgeback. So we are a wealth of knowledge on all things Exmouth and dogs!